Book Reviews completed by some of our children.
Why not tell us about a good book you've read?
Comments (11)
Show Comments
Tegan year 6
(about a year ago)
Wonder is a great book it is an exciting adventure . It is about a boy who has some problems with his face . His name is August . He goes to a school (he has never been to school before). It is sad when he goes to school and some people be a bit mean to him . My favourite bit is when a girl called Summer comes over to see August when he was sat by himself at lunch . Other people were talking about him . Summer doesn't care about his looks to her its inside that counts . The movie sounds brilliant and the trailer looks amazing . I can't wait for the movie to come out . I like the hot chocolate and the books we get to read . We get marshmallows and cream with our hot chocolate .
Georgia year6
(about a year ago)
Wonder by R.J. Palacio. Wonder is a brilliant book full of exciting times and some sad times (for August).This book is about a little boy called August -August is a normal little boy but has had many facial operations. When he goes to school for the first time it is heartbreaking until he meets Summer. Summer is a normal little girl but loves August(Auggie) very much. She doesn't let anyone be nasty to August. It had a massive impact on my behaviour towards other people. I can't wait until the film is released. I'm so excited. I do love the books that Mrs Needham chooses but I also love the hot chocolate and cream and not forgetting..the marshmallows.
Abi
(a couple of years ago)
The Astounding Broccoli Boy by Frank Cottrell Boyce This book is an 'astounding' fiction book. It is about two boys who turn green and every night they have a different adventure but somehow always get into trouble.I recommend this book to people who like adventure stories.
Charlie Saunderson
(a couple of years ago)
I like the book called Inkheart because it makes me feel like I am in a different world and I get to see things from their perspective! I like the way you can learn about their lives and their adventures which has made them who they are now!!! I like the description because it makes it seem magical and I can always find myself getting lost in the book!
Jamie Short
(a couple of years ago)
Recently I read a book by Jim Smith, Barry loser (I am so over being a loser) and I recommend this book to people because of how funny it is! Barry even takes a snail at one point and pretends that it is his friend Barry.
Zofia
(a couple of years ago)
Lately I have been reading a book called " The Halloweeds". This book is fantastic so far I have found out that Caramel and Dan's parents have been eaten by canabals and they are going to their Great Aunt Grusilla wich they have never met before !!! But why Grusilla does not have a missing finger I do not know !!! Sorry I have to leave you to find out what happens !!! Bye!!
Maddie
(a couple of years ago)
I love the book Firework Makers Daughter because I can imagine everything that is going on in the book and the magic girl that makes wishes I could imagine it being so pretty and sparkly like a unicorn!
Alfie Smith
(a couple of years ago)
Danger is still everywhere I like this book because it is funny and I would recommend this book to any people that like humer books like my friend Stuart.
Stuart Evans
(a couple of years ago)
The Midnight Gang by David Walliams, I like this book because it is very funny and a bit weird because There are ugly characters and weird settings I would reccommend this book to people who like humourous books and adventures if you do this is the perfect book for you.
Neve Angel Davies
(a couple of years ago)
Harry Potter and the Prisoner of Azkaban by J.K Harry and his friends Ron and Heriome have lots more adventure in their third year of Hogwarts , after they discover that Sirus Black ,who is a murder , escaped Azkaban to kill Harry Potter
Show More Comments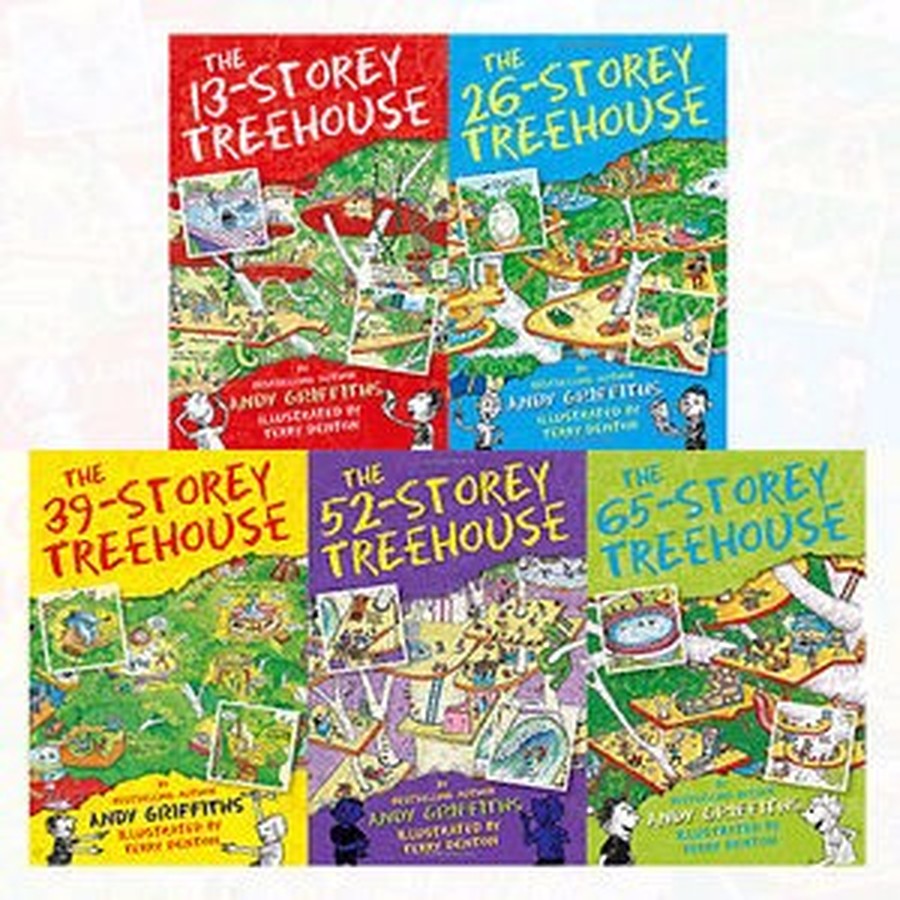 A current favourite in the junior classes - The 13-Storey Treehouse series of books!
Andy and Terry live in the WORLD'S BEST treehouse! It's got a giant catapult, a secret underground laboratory, a tank of man-eating sharks and a marshmallow machine that follows you around and shoots marshmallows into your mouth whenever you're hungry! Just watch out for the sea monkeys, and the monkeys pretending to be sea monkeys, and the giant mutant mermaid sea monster . . . Oh, and, whatever you do, don't get trapped in a burp-gas-filled bubble . . . !
Andy Griffith and Terry Denton's fantastically funny 13-Storey Treehouse is told through a combination of text and cartoon-style illustrations.