Harry Potter Book Night 2018
Fantastic Beasts
The juniors were invited to join in the celebrations of the 4th annual Harry Potter Book Night, with the theme Fantastic Beasts. 32 children attended the event held from the school library. The children were very excited to meet some fantastic beasts and learn how to take care of them.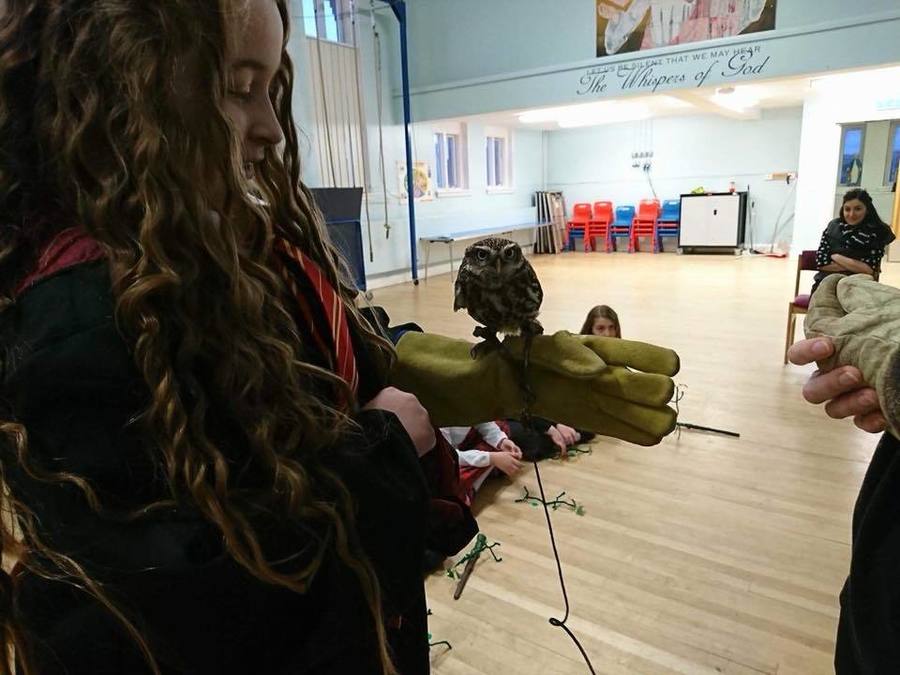 The children were sorted into Hogwart's Houses and proceeded to their lessons for the evening, which included: Owl care, Care of magical creatures (making a Bowtruckle), What's hatching? looking at dragon eggs and Potions class where they made a remedy for Scabbers. After all this hard work they enjoyed tea together in the Great Hall before leaving with a very special Niffler gift bag.
Harry Potter 20th Anniversary
Year 6 Creativity Day
Year 6 celebrated the anniversary all day: we began the day by choosing our house team from the sorting hat. The first points to be earned were from a wordsearch, we then had to produce a witch or wizard hat, fully decorated. The next activity was to design a magical library with lots of secret places and hidden magic! After lunch we designed an ice-cream sundae dessert suitable for our Hogwart's House then we made Hogwart's ice-cream!
The winning Hogwart's House on the day was Ravenclaw.
Movie Night
We held a Harry Potter movie night, on Monday 26th June, to celebrate 20 years since the publication of the first Harry Potter Book. 60 children from the junior classes enjoyed 'Butter beer' hot chocolate, cockroach clusters (popcorn), dried dragon's scales (tortilla chips), Hufflepuffs (cheese puffs), mermaid's tears (rainbow drops) and a mixture of Olivander liquorice wands.
Harry Potter Book Night
This year celebrated on Thursday 2nd February 2017 - Our event began at 5pm ending at 7pm.
Invitations were dispatched by owl post!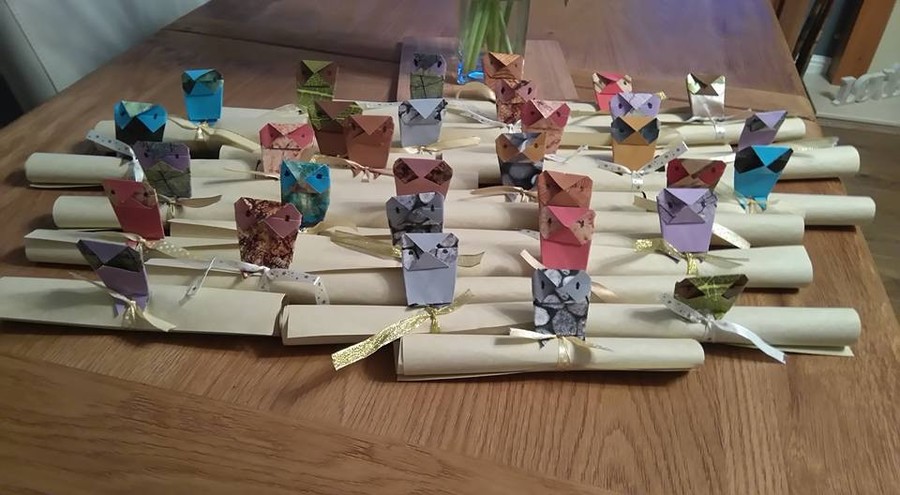 2017
Meet the Professors of Hogwarts
The theme of this year's Harry Potter Book Night was Meet the Professors.
The children met Dumbledore, Professor Snape, Professor Sprout, Professor McGonagall, a house elf and Hermione.
They took part in Potions class, Transfiguration class and Herbology before taking a rest in the Common Room.
After classes they had tea together in the great hall and left with reminders of their night at Hogwarts!
The winning house was Hufflepuff!
Click above to read the write up in the local newspaper!
The Hogwart's students loved their time in the common room
with the photo booth props!
Harry Potter Book Night 2015
This was the first Harry Potter Book Night. After being sorted into our houses by the sorting hat we went to complete different activities. The activities included a treasure hunt on Diagon Alley, making owl bookmarks, finding our Harry Potter name and making a name badge, a Potter memory game. After this we had a game of Harry Potter Pictionary. Points were collected during the evening and the winning house was Griffyndor.